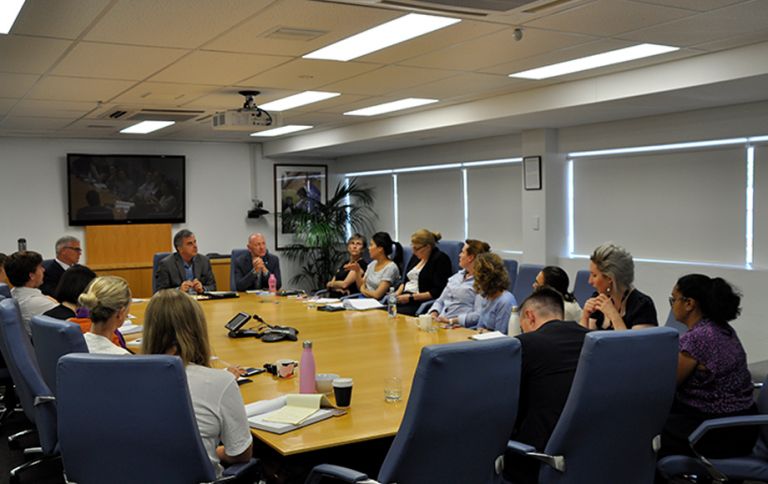 The Australian Civil-Military Centre hosted a roundtable discussion on 18 January for the visiting outgoing International Committee of the Red Cross (ICRC) Head of Delegation to South Sudan, Mr Francois Stamm, along with Australian ICRC Head, Mr Leonard Blazeby, Head of Mission ICRC Canberra, and the ICRC delegation.
Mr Stamm generously shared his experiences and views about South Sudan, where he was Head of Delegation for the ICRC mission in 2017-18. The Roundtable was attended by a range of inter-agency participants with interest in this topic, and was an opportunity for policy practitioners working in government to engage with the ICRC and share views and expertise on a specialist subject of civ-mil interests.
Mr Stamm shared his observations on the early signs of peace, stability and cooperation that have been apparent since the recent peace deal and cease fire. The peace deal was agreed to after a series of negotiations by the South Sudan's President Salva Kiir Mayartdit and the country's rebel leader Riek Machar, and represented a positive albeit fragile step towards ongoing peace in South Sudan.
As a key part of the ICRC's work in South Sudan concerns internally and regionally displaced populations, Mr Stamm noted a modest increase in returning refugees and displaced persons to the post-conflict areas, although many of those who were welcomed to and relocated to neighbouring countries, particularly Uganda, were unlikely to return to South Sudan.
The Roundtable provided an opportunity for fruitful discussion, and the group concluded that while the country faces ongoing political, economic and development challenges and the humanitarian need remains high, the situation has improved and the future outlook for South Sudan was hopeful.